Text Design
The TextDesign tool of the VideoEditor SDK for Android offers a automated text layouting engine.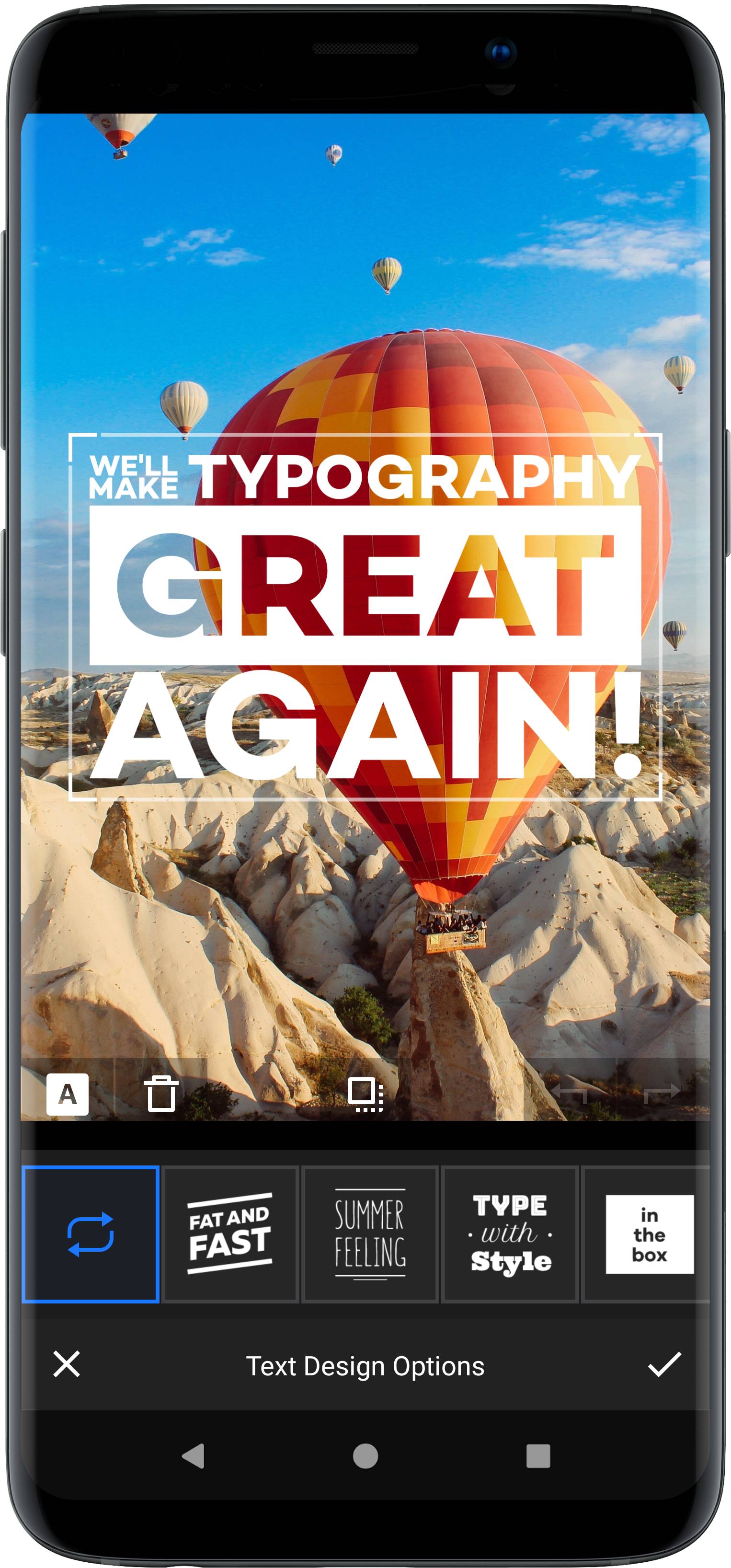 A picture says more than a thousand words, however sometimes it still takes a few more. The robust text-design feature of the VideoEditor SDK provides a simple and automated creative text layouting engine to any picture.
The backend settings are implemented in the TextDesignLayerSettings class and displayed using the TextDesignToolPanel. If you want to customize the appearance of this tool, take a look at the customization section.
TextDesign configuration

#
UiConfigTextDesign

 uiConfigTextDesign 

=

 settingsList

.

getSettingsModel

(

UiConfigTextDesign

.

class

)

;

uiConfigTextDesign

.

setTextDesignList

(

  

new

 

TextDesignItem

(

TextDesignBlocks

.

ID

,

 

R

.

string

.

pesdk_textDesign_asset_blocks

,

 

ImageSource

.

create

(

R

.

drawable

.

imgly_icon_text_design_blocks

)

)

,

  

new

 

TextDesignItem

(

TextDesignRotated

.

ID

,

 

R

.

string

.

pesdk_textDesign_asset_rotated

,

 

ImageSource

.

create

(

R

.

drawable

.

imgly_icon_text_design_rotated

)

)

,

  

new

 

TextDesignItem

(

TextDesignBlocksLight

.

ID

,

 

R

.

string

.

pesdk_textDesign_asset_blocksLight

,

 

ImageSource

.

create

(

R

.

drawable

.

imgly_icon_text_design_blocks_light

)

)

,

  

new

 

TextDesignItem

(

TextDesignEqualWidth

.

ID

,

 

R

.

string

.

pesdk_textDesign_asset_equalWidth

,

 

ImageSource

.

create

(

R

.

drawable

.

imgly_icon_text_design_equal_width

)

)

,

  

new

 

TextDesignItem

(

TextDesignMasked

.

ID

,

 

R

.

string

.

pesdk_textDesign_asset_masked

,

 

ImageSource

.

create

(

R

.

drawable

.

imgly_icon_text_design_masked

)

)

,

  

new

 

TextDesignItem

(

TextDesignCelebrate

.

ID

,

 

R

.

string

.

pesdk_textDesign_asset_celebrate

,

 

ImageSource

.

create

(

R

.

drawable

.

imgly_icon_text_design_celebrate

)

)

,

  

new

 

TextDesignItem

(

TextDesignSunshine

.

ID

,

 

R

.

string

.

pesdk_textDesign_asset_sunshine

,

 

ImageSource

.

create

(

R

.

drawable

.

imgly_icon_text_design_sunshine

)

)

,

  

new

 

TextDesignItem

(

TextDesignMaskedBadge

.

ID

,

 

R

.

string

.

pesdk_textDesign_asset_maskedBadge

,

 

ImageSource

.

create

(

R

.

drawable

.

imgly_icon_text_design_masked_badge

)

)

,

  

new

 

TextDesignItem

(

TextDesignBlocksCondensed

.

ID

,

 

R

.

string

.

pesdk_textDesign_asset_blocksCondensed

,

 

ImageSource

.

create

(

R

.

drawable

.

imgly_icon_text_design_blocks_condensed

)

)

,

  

new

 

TextDesignItem

(

TextDesignCelebrateSimple

.

ID

,

 

R

.

string

.

pesdk_textDesign_asset_celebrateSimple

,

 

ImageSource

.

create

(

R

.

drawable

.

imgly_icon_text_design_celebrate_simple

)

)

,

  

new

 

TextDesignItem

(

TextDesignEqualWidthFat

.

ID

,

 

R

.

string

.

pesdk_textDesign_asset_equalWidthFat

,

 

ImageSource

.

create

(

R

.

drawable

.

imgly_icon_text_design_equal_width_fat

)

)

,

  

new

 

TextDesignItem

(

TextDesignWatercolor

.

ID

,

 

R

.

string

.

pesdk_textDesign_asset_watercolor

,

 

ImageSource

.

create

(

R

.

drawable

.

imgly_icon_text_design_watercolor

)

)

,

  

new

 

TextDesignItem

(

TextDesignParticles

.

ID

,

 

R

.

string

.

pesdk_textDesign_asset_particles

,

 

ImageSource

.

create

(

R

.

drawable

.

imgly_icon_text_design_particles

)

)

,

  

new

 

TextDesignItem

(

TextDesignMaskedSpeechBubble

.

ID

,

 

R

.

string

.

pesdk_textDesign_asset_maskedSpeechBubble

,

 

ImageSource

.

create

(

R

.

drawable

.

imgly_icon_text_design_masked_speech_bubble

)

)

,

  

new

 

TextDesignItem

(

TextDesignMaskedSpeechBubbleComic

.

ID

,

 

R

.

string

.

pesdk_textDesign_asset_maskedSpeechBubbleComic

,

 

ImageSource

.

create

(

R

.

drawable

.

imgly_icon_text_design_masked_speech_bubble_comic

)

)

,

  

new

 

TextDesignItem

(

TextDesignMultiline

.

ID

,

 

R

.

string

.

pesdk_textDesign_asset_multiline

,

 

ImageSource

.

create

(

R

.

drawable

.

imgly_icon_text_design_multiline

)

)
To determine a specific Text Design Item as the initial Text Design on opening the feature add the following code example:
// Create TextDesignLayerSettings with some of the available Layouts ("TextDesign*()")

TextDesignLayerSettings

 textDesignLayer 

=

 

new

 

TextDesignLayerSettings

(

new

 

TextDesignBlocks

(

)

)

;

textDesignLayer

.

setText

(

"Tap here to edit your text"

)

;

// Set a fixed seed, to have always the same TextDesign Layout, otherwise, the seed is taken randomly, so the layout will switch randomly.

textDesignLayer

.

setSeed

(

12345L

)

;

// Add the Layer to your settingsList

settingsList

.

getSettingsModel

(

LayerListSettings

.

class

)

.

addLayer

(

textDesignLayer

)

;