Infopark:
Founded 1994
Based in Berlin, Germany
SaaS provider for website infrastructure technologies (CMS, CRM)
Requirements: A simple and intuitive photo editing solution to provide their clients with seamless and easy asset management
Results: A versatile image editor within Scrivito's Content Browser
The native cloud service Scrivito is tailored to meet the requirements of editors worldwide and provides a clean and simple What-you-see-is-what-you-get, drag & drop interface that enables its users to change their websites and content on the fly; eliminating complex tree hierarchies and all the guesswork that goes along with it. Since successful websites hinge on high-quality pictures, Infopark wanted to equip its users with a robust image editing solution. "We wanted to provide our users with a coherent and easy-to-use working environment, and because most editors don't have Photoshop or a proper skillset for other sophisticated programs, we were searching for a solution that would enable our users to quickly and professionally edit their images within Scrivito" says Thomas Witt, co-founder and Director of Product & Business Development at Infopark.
Before integrating the PhotoEditor SDK into their award-winning service Scrivito, Infopark tried to tackle the problem themselves with a simple, self-made solution based on ImageMagick. The editor could perform operations such as rotate, crop or flip "but that solution didn't have an appealing UI, nor was it easy to use" says Thomas Witt. "After evaluating some solutions, we felt that the PhotoEditor SDK would be a good match because it is the easiest to use for both developers and users and also has a nice UI that doesn't look cluttered."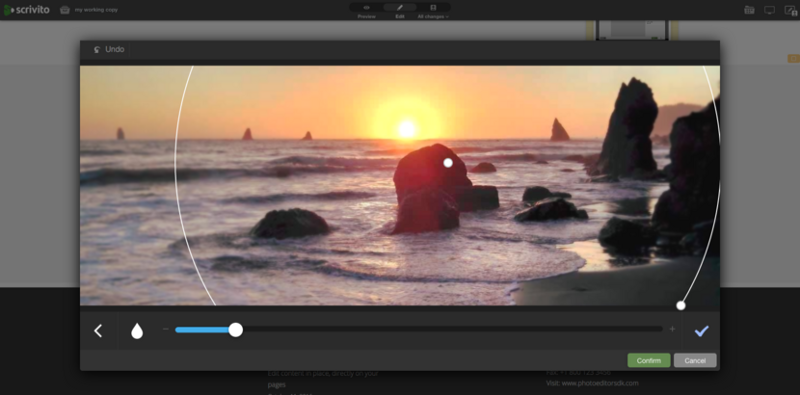 With the SDK the developers at Infopark accomplished in days what would've otherwise taken weeks. "Our developers loved that the integration was really straightforward and that everything you need like APIs and documentation is easy to find and of very good quality. And when we had questions, the support team responded very quickly and extensively" says Witt. With the PhotoEditor SDK Infopark provides their customers with a native image editing solution that seamlessly integrates into Scrivito's content browser and further facilitates the creation of websites and content. "Asset management is critical to our users, and we get a lot of positive feedback for our solution," says Thomas Witt.
"The PhotoEditor SDK is a great product, it does exactly what it's supposed to do, and we never encountered any difficulties. It even provides more functionalities than our customers would ever use. The support was very fast and helpful, and the documentation is extensive and comprehensible" concludes Witt. With the PhotoEditor SDK Scrivito allows for an intuitive and straightforward approach to both content and website creation. Unlike other CMS Scrivito now enables its users to creatively experiment with their website assets and make impromptu decisions for their design.