After giving you a sneak peek at the Text Design tool in a previous blog post, we can now finally announce that it is available as a part of the PhotoEditor SDK for all platforms. Over the last weeks, we finalized the Text Design tool and added functionalities that make it a handy creative tool for many industries and use cases.
One of our main goals is to make good design more accessible to everyone by developing technology that facilitates and streamlines creative processes so that even people without previous knowledge of sophisticated editing tools can yield appealing results. The Text Design tool enables you to provide your users with the power and features necessary to give speech to their ideas and create a narrative for their visual communication.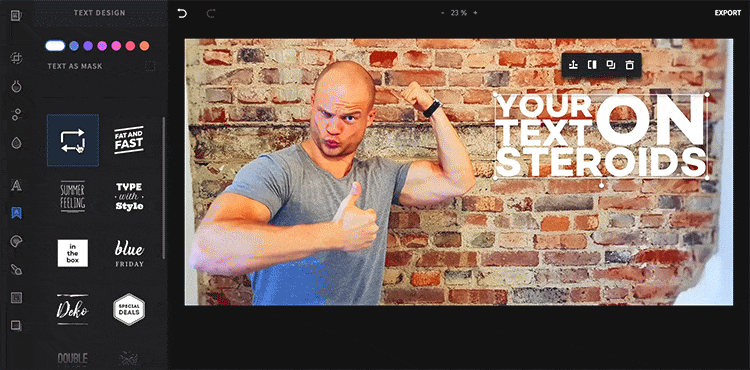 Attention-grabbing and precise visual communication is key to engaging one's target audience. Our novel tool automates typesetting and lets your users combine photos and text fast and easy to create stunning imagery for any tone and task. The Text Design tool features complex text layouts based on recipes crafted by professional designers. Their balanced combination of fonts, sizes, alignments, and decorations allow for the fast creation of assets with a designer look for various purposes like social media, online ads, short-term offers, flyers, product images, posters, promo material and so on. Especially for small companies and teams, without the budget for a professional designer or a dedicated design department, the Text Design Tool can save a lot of time and stress by reducing what would usually take hours to a single tap.
All it takes is an idea. The Text Design Tool tends to 90% of the execution.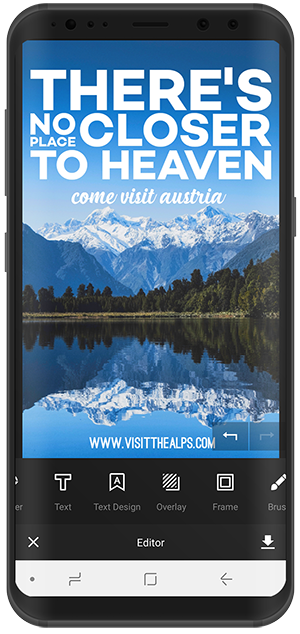 The tool makes design just as fast as your users' ideas. Combined with the PhotoEditor SDK's extensive feature suite, branding opportunities through sticker upload and the photo roll with endless source material, your users can achieve a harmonious and nuanced visual communication off the bat to stand out against their competitors. The designs help convey your users' message and can be used to create a textural hierarchy to guide the spectators view to the essential infos for your users' goals. Furthermore, the shuffle functionality randomizes fonts, alignments, and decorations thus offering endless possibilities for creative expression.
A recent change we made to the mobile versions of the Text Design tool is lifting the limitation of one design per creative to allow further artistic expression and get the most out of the interplay and combination of the various designs. On top of that, we optimized the inverting feature of the tool to allow for the adjustment of the inverted designs' padding and size.
If you want to empower your users to give a voice to their creatives head over to IMG.LY and get in touch with our sales team.
Thanks for reading! To stay in the loop, subscribe to our Newsletter.