W | Bear is the first global photo and video blogging social community for gay men. The free app allows its users to post pictures and videos to a personal feed, express their creativity and connect with like-minded bears. The blogging community provides a safe place where people can build and shape a social environment, chat, flirt and date. W | Bear was created and developed by the private and public cloud solution provider gNetLabs. We sat together with Xavier Nicolle, CEO at gNetLabs to talk about the vision behind W | Bear, time to market and providing users with tailored assets to amplify engagement.
"W | Bear is aimed at the bear subculture of the LGBT community. People express themselves, their story and their life through photos and videos. Our users are very happy with the app. 18 months after the release we reached around 150.000 users worldwide, which is beyond our expectation and it's getting faster and faster. We get a lot of positive reactions and amazing feedback from users that tell us, that our application helped them to gain more self-esteem and to better integrate into the community," Xavier Nicolle says.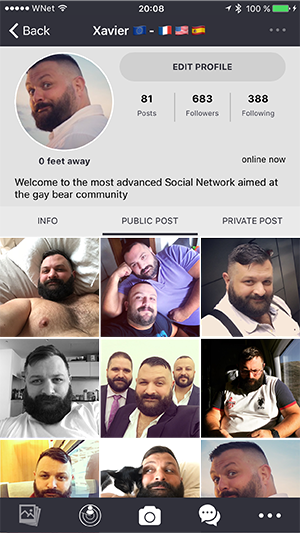 As pictures were going to be a vital part of the Instagram like photo blogging application (to this day, more than 2 million pictures and videos have been posted on the app), the folks at gNetLabs started exploring options as their CEO explains: "Time to market was critical for us, and we were kind of in a rush to develop the app. From our background as a hosting company, we'd usually develop and host everything ourselves, however, due to time problems, that wasn't a viable option regarding the photo editing functionalities. So, we jumped into PhotoEditor SDK to save time, really liked it and eventually kept it. The features and pricing perfectly fit our needs, the integration was straightforward, and the SDK is of great quality and open enough for fine-tuning. On top of that, unlike Adobe Creative SDK for example, it is not linked to any other service. And that is exactly what we were looking for, a piece of software that we could simply plug in that isn't linked to a service that we don't need."
To offer the best experience possible with W | Bear, the folks at gNetLabs pay close attention to how people engage with the app and its features. "Our users mostly work with stickers, frames, and overlays when editing their pictures," Xavier Nicolle says, "so, bearing that in mind, we want to provide more content and assets that are tailored for the community so our users will hopefully make more use of the editor. Currently, we're working together with artists that develop stickers that we're going to introduce using the SDK."
But it doesn't stop with W | Bear, as Xavier Nicolle describes the vision behind the community: "W | Bear is the first piece of a larger social network we want to develop that is dedicated and aimed at the whole LGBT community. We're going to release more applications using the same technology as W | Bear to address more subcultures. On top of that, there are going to be corresponding websites for each app, so the user will be able to find the same functionalities and tools across all platforms."
Thanks for reading! To stay in the loop, subscribe to our Newsletter.