dirico.io is a piece of software that unifies the social media and content marketing workflow from research and planning over creation to publishing. In doing that, dirico.io helps marketing teams to better organize and ensures a perfectly orchestrated communication at all times. We sat together with Marcus Burk, Head of Marketing at dirico.io, to discuss how they use the PhotoEditor SDK to provide their users with seamlessly integrated photo editing and branding features.
"With dirico.io, we follow an all in one approach," says Marcus Burk, "that means that our tool covers the complete workflow starting with the inspiration for content ideas, over planning, creation, and scheduling to publishing. And just as text is vital to content, images like infographics or pictures for social media are also an incredibly important medium. So, we've been looking for a solution that basically could substitute Photoshop in many ways. I'm very happy that we are using the PhotoEditor SDK, it is a great and innovative product. One can see the development that img.ly made as well as the advancement of the SDK over the last years. I believe that it is one of the easiest to use and most powerful editors on the market and the integration possibilities into our solution are awesome."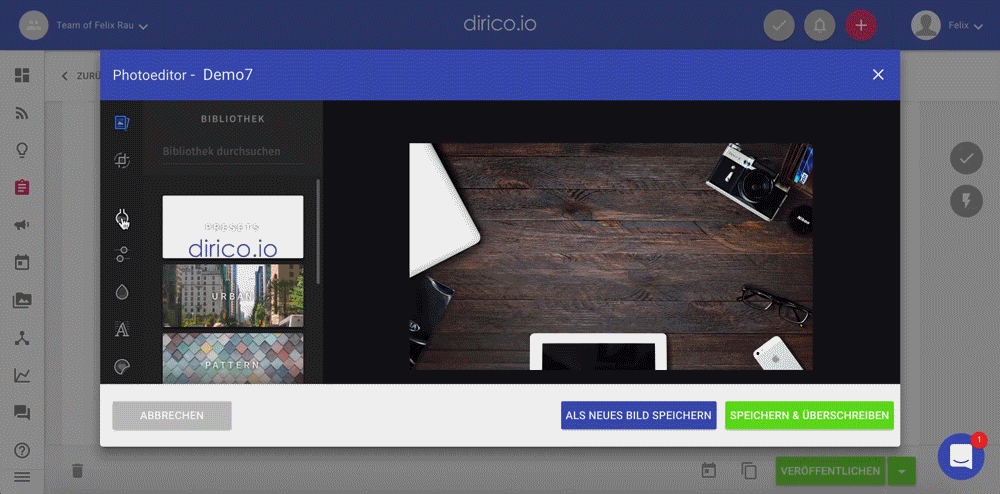 The users of dirico.io mostly work with the editor for social media images. Here, a few features and tools of the SDK come in quite handy as Marcus Burk explains: "The fact that you can import and save assets like for example a company logo with a transparent background is a great feature for branding on social media. We recently enabled the photo roll tool of the SDK so the user can choose pictures from a stock library and then edit them in the editor. So, now it's possible to create completely new content right off the bat. You'd just have to choose an image from the stock library, edit it and then apply your logo to it. Our users are really excited about that feature once they realize how easy it is and look forward to saving time."
PhotoEditor SDK is a great and helpful tool to adjust pictures directly in the browser.
247GRAD started out as a social media marketing agency. To facilitate their daily routines, they created the Facebook CMS TABMAKER in 2011. Later in coordination with the social media departments of their clients they created 247GRAD CONNECT (formerly PUBLISHER) for in-house use. To tackle the challenges of content marketing, they then expanded the functionalities of their tool and introduced it to the public. 247GRAD CONNECT evolved into dirico.io, a full-fledged social media and content marketing solution for agencies and enterprises of every size. To create this feature-rich experience the developers at 247GRAD Labs had to rely on robust, well-documented software with hassle-free integration, such as the PhotoEditor SDK as Marcus Burk explains: "Our developers told me that they love the fact that everything is well documented and that there are example integrations for various frameworks. And regarding support, we're happy that we have people that we can directly talk to and that are motivated to work together when there are any issues or questions."
Thanks for reading! To stay in the loop, subscribe to our Newsletter.