In the past, tailor-made marketing campaigns and personalized products were seen as a luxury that only a few companies could afford. However, as we enter 2023, personalization has become essential for all industries. Consumers now expect to see relevant and relatable content on a regular basis, which means that leveraging personalization on at least one channel has become a must-have.
Many marketers already use personalization techniques to retain customers and boost conversions. However, with new trends constantly emerging, there's a risk of falling behind. If you're still unconvinced that personalization is the future, we've put together an overview of why it should be a top priority for your business strategy.
What is Personalization?
First, let's clarify what personalization actually means. The most straightforward way to explain personalization would be tailoring of marketing materials, campaigns, and products to individuals' specific characteristics, preferences, and needs in order to provide a more relevant and engaging experience.
With technological development, companies are finding new ways to apply personalization across their businesses, ways beyond mere "Hello [name]" emails. For industries like e-commerce or printers, the personalization approach has been extended all the way to the production stage - allowing customers to incorporate their own designs and purchase a unique product made exclusively for them. Others, rely on algorithms to make sure that customers are always presented with the most relevant and engaging content. Regardless of the industry, everyone is looking to take advantage of personalization approaches.
Benefits of Personalization
Personalization is by default a user-centric approach, prioritizing relevance, usability, and impact of provided content and features. Thoroughly planned personalized marketing campaigns can make or break new product launches, boost subscription numbers, or convert lingering customers.
For industries like e-commerce and print, enabling customers to design or customize their own product means higher sales and lower return rates - which translates to not only a higher profit margin but also a more sustainable shopping experience.
Companies efficiently utilizing personalization efforts can expect:

Deeper connection between brand and customer
Increased brand loyalty and customer retention
Higher conversion rates

Treating customers with individual attention and care creates a sense of connection going beyond just purchasing needs. When customers are faced with meaningful content they are able to find what they need more easily, creating a pleasant user experience. Instapage reported that 74% of customers feel frustrated when website content is not personalized. Making them more likely to stick with brands that go the extra mile.
Moreover, presenting customers with relevant recommendations or tailor-made discounts significantly increases chances of conversion. According to Business Insider, 47% of customers turn to Amazon if the brand they are shopping with doesn't provide personalized product suggestions. The ability to quickly find what is needed might just be the difference between making a sale and losing a customer.
Leveraging Personalization
Applications of personalization are limited only by imagination and creativity. The right personalization approach can sometimes equal to the success of an entire business. Hard to imagine Spotify being so popular without its flawless personalization algorithms alongside giants like Netflix or Amazon which heavily rely on personalization to retain subscriptions and push sales.
Fortunately, personalization is not reserved for large enterprises only, it can be used just as efficiently by any other company, regardless of its size. Thanks to its versatility, it can be utilized across different channels, platforms, and consumer touchpoints. Some of the most popular uses of personalization include:
Marketing
For brands and marketing agencies, personalization usually translates to displaying personalized content - be it product, service, or piece of information, alongside ensuring relevant outreach - with tailor-made emails and ads. The success of marketing personalization efforts usually depends on quality of gathered data and right algorithms. Unfortunately, finding a winning approach means little without having a way to scale it. Companies that wish to succeed with their marketing personalization strategy usually have to turn to automation of workflows and creative materials.
E-Commerce
Apart from applying personalization in their marketing efforts, e-commerce companies have the advantage of extending it all the way to their products. Allowing customers to add a custom engraving or artwork creates a more intimate shopping experience with irreplaceable product added value. Companies that cannot offer those services have also found a way to leverage personalization, usually by providing options to add a custom greeting card, thank you note, or even record a custom message.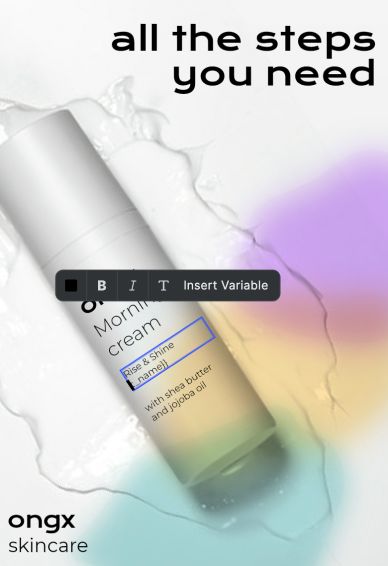 Print Products
Print products might have the most exciting and yet still underutilized personalization growth possibility. While photo printers have been profiting from personalization for quite some time, there is still a large portion of the industry lagging behind. Personalization of any printed materials like photos, posters, cards, marketing materials, or apparel items is the future.  And certainly, the future customers are impatiently looking forward to.
However, personalization leaves nobody behind. For those unable to provide such services, there is a whole world of personalized packaging and labels to take advantage of and create a meaningful customer experience.
Personalization Challenges
With all the benefits and possibilities of personalization, it seems like every company should have mastered it by now. So why it isn't so? Scaling personalization can proven to be a challenging task. It requires a strategy on how to gather data sensibly, translate it into initiatives, and bring those initiatives to life. Some of the most common challenges of scaling personalization are as follows.
Data Collection and Preparation
In order to create relevant personalization of marketing content and materials first there must be data that can support this. With topics of privacy policies and data protection on the rise, targeted ads and campaigns might seem obsolete. The key to leveraging personalization is understanding the fine line between providing experience that feels relevant and welcomed, not invasive and overbearing. Another factor contributing to positive results is the transparency of collected data and how it's being used. Harvard Business Review conducted a study that reported that when customers were openly informed their ads were based on their online activity revenue grew by 38%. With data becoming a currency of its own, honest communication seems to be the key to successful personalization campaigns.
Creative Materials Production
Personalization is loved by marketers because they know how much it helps with engagement and conversion rates. However, it can be dreaded by designers and creative teams. Production of personalized marketing materials can create a painful bottleneck and freeze resources for extended periods of time. The only way to scale production and reduce efforts is by implementing software that can automate a large portion of the work with templates and variable data imports. Designers can create adjustable templates and the marketing team can adapt them to their needs, making the process fast and accessible to all.
Custom Prints
The most significant challenges of personalized print products usually revolve around artwork supply and print quality. Different resolutions, file formats, and design quality might mean the back and forth of proofreading, rejecting, and proofreading again. Custom prints might also pose a risk of misprints and trademark infringements, as well as mismatched expectations - especially if there is no preview function of the ready product. A solution for those headaches would be a web-to-print editor, which can not only improve the design creation process, but also automatically validate designs and generate previews.
Scale Personalization with CE.SDK
CreativeEditor SDK was developed with the thought of bringing automation and scalability to creative materials. Because of its versatility and extensive features, it can be applied across all industries and utilized on all channels and platforms, and addresses some of the most burning questions limiting the current use of personalization.
Personalized Cross-Channel Content
How do you create personalized content that can be implemented for a large audience across multiple channels, all with limited resources? The short answer is automation. Creating countless variations of marketing materials has to be automated, otherwise, it cannot be scaled.
The most efficient way is to work with adjustable templates and data variation imports. Designers can create as many templates as needed, making sure they stay on brand, while marketers and social media creators can adapt them to their needs.
CreativeEditor SDK offers the possibility of creating smart templates with adjustable placeholders and constraints. This way, editing of any design is done in a controlled and predefined way. The editor can be used by internal teams, as well as external clients and customers, making the production of all marketing materials easily scalable.
How to Develop a Web2print Editor in a Timely Manner?
The most time-efficient way is to use Software Development Kit. SDKs contain powerful features with quick and easy integration and give the opportunity to stay on brand with customizable UI.
Choosing CE.SDK, whether for photo prints, apparel, or marketing materials, can streamline the web2print process and solve many of the custom print challenges. With smart templates, companies can jumpstart their customers' creative process, ensuring right design dimensions and quality. While automatic design validation safeguards the printing process with notifications of artwork exceeding bleed margin, as well as checking for harmful content or trademark infringements.
Conclusion
Regardless if you use it as a key component or part of a bigger strategy, personalization is here to stay, and it will most likely determine the success of many brands and industries. Staying up to date with current personalization trends is becoming a must for marketers, with a growing need to think outside the box. The ability to scale personalized marketing materials, and provide bespoke user experience and relevant recommendations, are the future of reaching conversion goals and building lasting relationships with customers.
Companies will have to find ways to easily and efficiently scale personalization and bring it to their users. IMG.LY developed tools to help with those efforts. Learn more about CE.SDK capabilities or see how to use it for Creative Automation process or Web-to-Print.
If you want to learn more about integrating CE.SDK, check out our documentation or try it for free!
Thanks for reading. To stay in the loop, subscribe to our Newsletter.