The Beginning
In my first years as a graphic designer, my world consisted mainly of paper, books and magazines. To give you an example, my bachelor and master thesis were both printed books (Yes - I am that old). So i was born analog, but i wanted to become more digital.
In the last three years, I have done my own personal digitalization and transformed from the analog design world into a digital one to the point that last weekend I created and launched my first crypto art - an NFT.
But First – What is an NFT?
I have read about NFTs before from time to time. Then, two weeks ago, the internet went wild about the news that a well-known New York gallery sold a digital painting worth $69 million for the first time. And this made me thinking a bit more about the subject again and I decided to join the hype. Let's get rich!
But what is a NFT and how does it work? NFT stands for Non-Fungible Token which is secured by the Ethereum blockchain. 1 ETH is a fungible token – like bitcoin – a digital currency that is exchangeable. However, in contrast to ETH, a NFT can represent ownership of unique items. These unique items can be digital art like an image or a video, or any other digital asset. Within the process of creating an NFT, the digital asset will get connected to the token - which is called "minting". Even though that image can easily be copied or recreated, the NFT can prove to a third-party that a specific person or entity owns this token. This makes digital art verifiable and unique.
What excites me so much about NFTs is that they make it possible to give digital art a real value. In addition it gives digital artists the opportunity to be perceived as artists in the same way as their colleagues who paint with brush and paint on canvas. So this means that digital art can finally step up to it's physical counterpart. The beginning of a whole new era of art.
Currently it feels like that one can basically mint everything to an NFT and people go crazy about it. Why? Because people always liked to collect special and rare things like stamps, pokemon cards, oil paintings and so on - the list is basically endless.
Going digital
Circling back to my own story about transforming from an analog world to a digital one, the first step was to make my work more digital. Three years ago I gave up being self-employment and started working as an art director at IMG.LY. We do develop software for photo and video editing. Our first product was the Photoeditor SDK later followed by our Videoeditor SDK. However, last year we started defining our goals and begin the journey to transform our editor into a completely new tool that combines photo editing with automatic layouting. Automated and simplified processes make it possible for designer to focus more on the development of cool concepts instead of struggling with the technology itself.
Some time ago - while testing the functions of our tool, I created a series of pixel-art images. In my opinion this pixel-art style fits the topic of NFTs quite well, so that I created a small series with three matching images, which got the name "Life behind Pixels".
One of these pictures was supposed to be my first NFT, but I had to realize that my digital transformation still has some gaps that I need to fill. There are various marketplaces that function like galleries, where one can upload their digital art for everyone to see and be verified as an official artist. I chose Rarible because it has a rather small community compared to the big ones like e.g. OpenSea and it is possible for everyone to join. Other marketplaces tend to select artists they work with based on the number of followers and how well-known they are in the community.
If you want to create an NFT –  so called "minting" it, you have to connect your digital wallet to one of these platforms and pay a fee (gas) of about $60 in Ethereum. Unfortunately I don't have a wallet or even digital money, so what can I do? I asked my boyfriend who works as firmware engineer in the 9elements cyber security department and who was of course already deep in the crypto universe and bang: My first NFT was minted. Now I'm even more fired up.
And although this NFT topic is on everyone's lips in the digital scene right now, I recently noticed in a clubhouse talk with other designers that this hasn't arrived everywhere yet.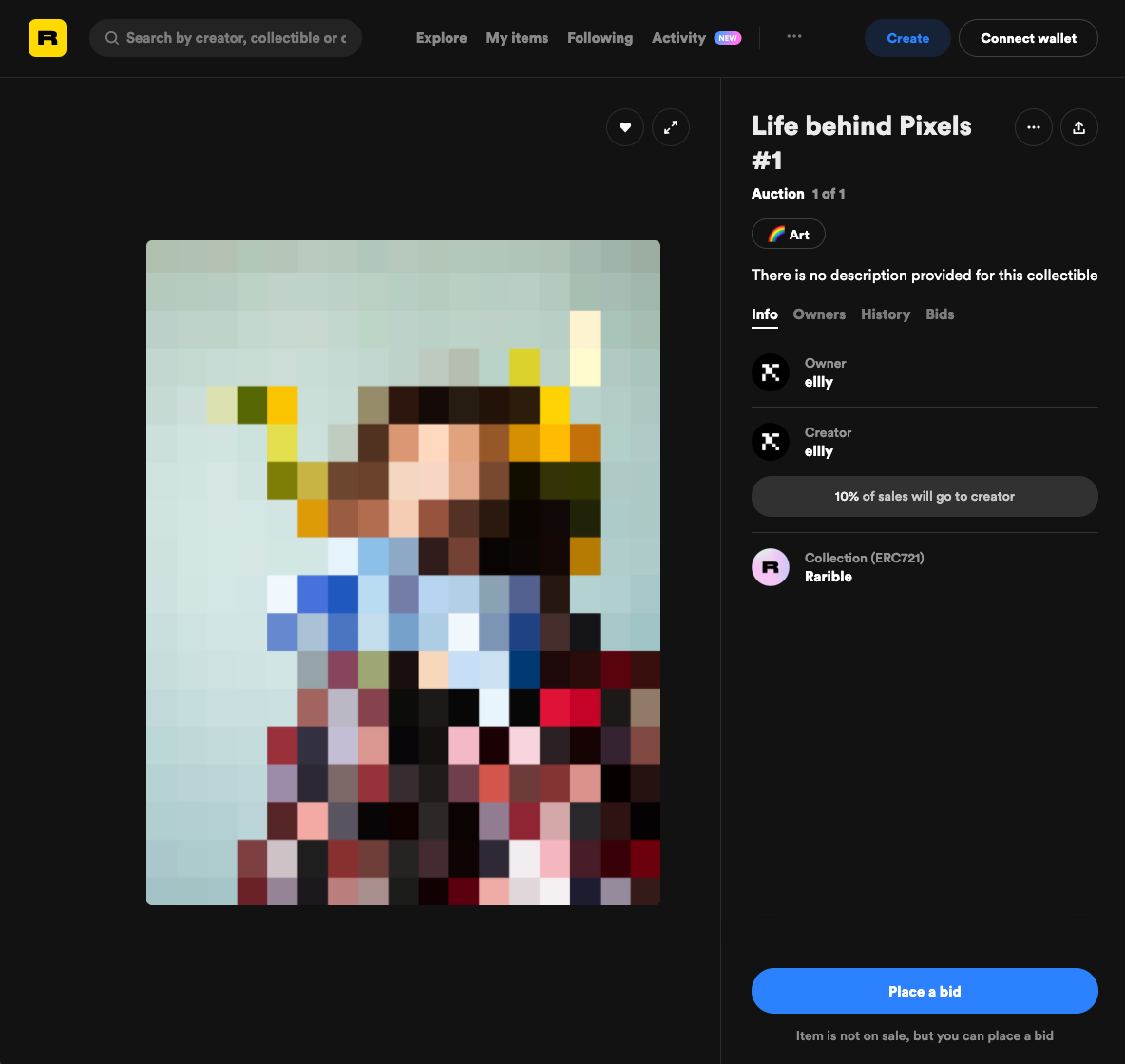 And now what?
First we are curious to see what happens with our first NFT and we are trying to find out what else is possible with it. Instead of attaching unique information to a simple image file and making it unique, there is a way more potential behind it: NFTs can be minted in a way that allows them to react to their environment using their integrated code. For example they can show a different state in the morning, at noon and in the evening or their appearance changes due to the number of attached wallets.
Right now we're looking at everything there is to know about NFT and blockchain to develop more crypto art and be part of the new era. Our plan is to create a new piece of crypto art every month. I'm trying to figure out what's hot in crypto design right now. What do we need to stand out and be visually and technically unique?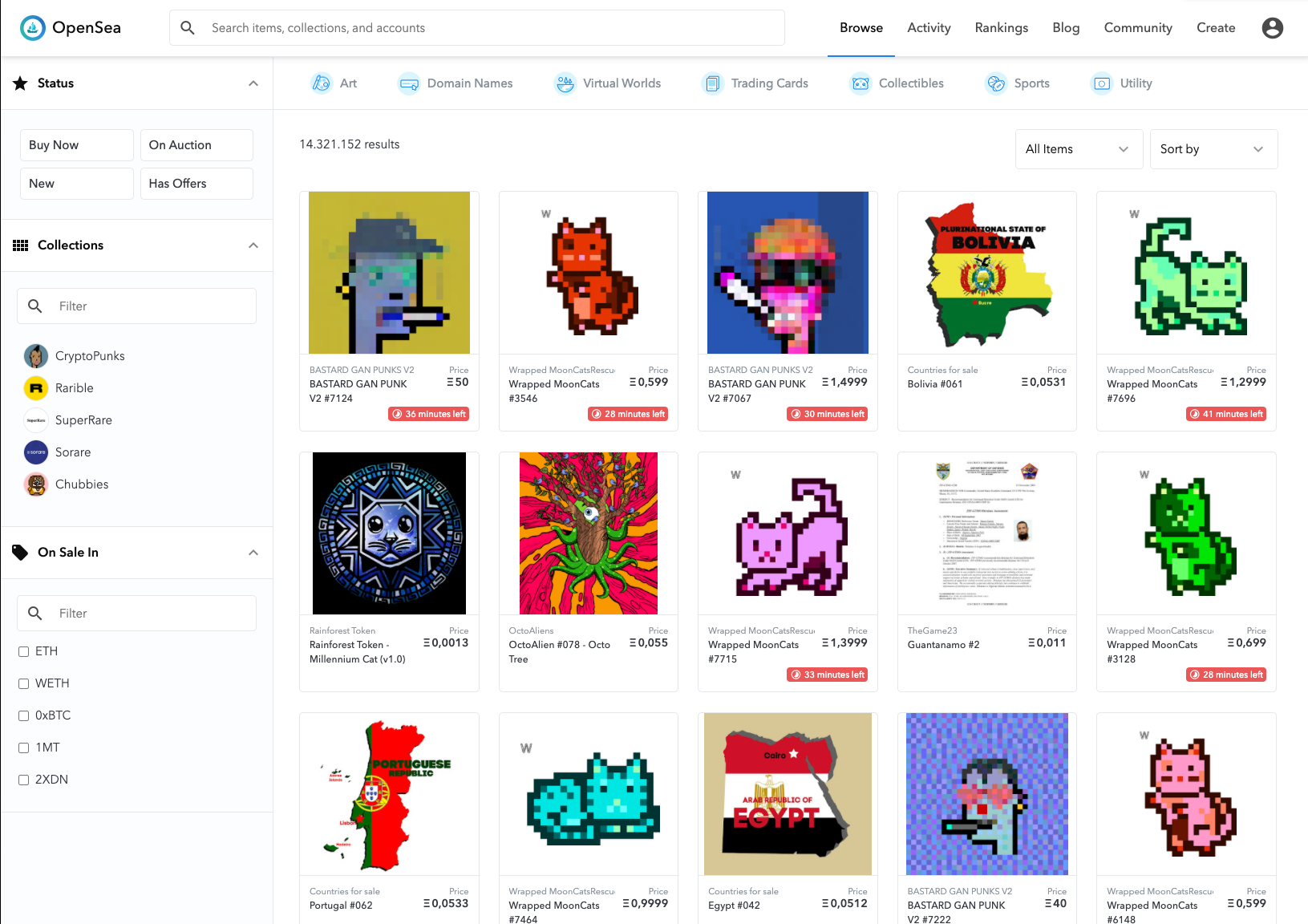 And what are the options if you don't have a friend working in the tech area?I think besides a monthly NFT, there could also be a monthly blogpost ;)
Also check out Instagram and Twitter for daily updates!
https://www.instagram.com/ellly_pix  https://twitter.com/ellly_pix

A more technical deep dive can be found here.
Despite the fact that I am super thrilled about NFTs and that I finally generated my own, there is also a lot of controversial discussion going on about the climate impact of NFTs and the energy consumed to mint digital assets. If you like to follow up with this discussion, I put together some interesting links where you can also find some alternatives to the "minting" process:

Calculate the CO2 Footprint of your Ethereum address: https://carbon.fyi/
https://www.greenpeace.org.uk/news/the-biggest-problem-with-carbon-offsetting-is-that-it-doesnt-really-work/
https://memoakten.medium.com/the-unreasonable-ecological-cost-of-cryptoart-2221d3eb2053
https://www.hicetnunc.xyz/
https://xtz.news/latest-tezos-news/getting-started-as-an-nft-artist-on-tezos-using-hicetnunc/