Funambol is the leading provider of white-label personal cloud solutions that empower mobile operators worldwide to provide their customers with cloud storage in their packages. With their latest app Zefiro, Funambol recently launched a branded version of their core product to address the consumers directly. We sat together with Stefano Fornari, CTO and Co-Founder of Funambol, to talk about Zefiro, user engagement and switching from an established vendor's photo editing solution to the PhotoEditor SDK.
The personal cloud app Zefiro offers infinite cloud space and provides sharing, collaboration, and search functionalities as well as a functionality that automatically frees up space from the user's phone by cleaning up items that were already saved to the cloud. But instead of just providing a haven for pictures and personal data, Zefiro offers several creative tools that enable its users to modify and enhance their images or create montages and little movies. For the first-mentioned, Funambol leverages the toolset of the PhotoEditor SDK.
"The SDK is a great way to keep the users engaged and let them enjoy the content they like the most, which is their pictures."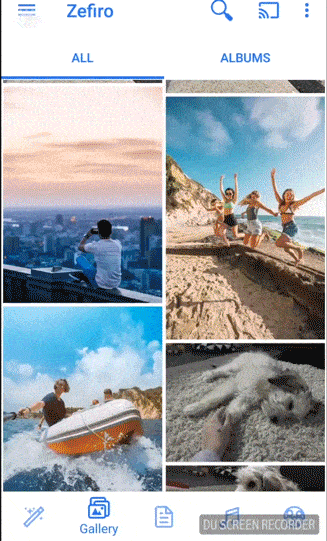 "It's important for us that the people feel comfortable with the app which must not only be easy, but also pleasant to use," Stefano Fornari explains, "people want to do something with their pictures, so it's important for us to give them ways to show, share and modify them to engage them to exploit the best value provided by our service. Our users are not photo professionals, so we need to provide very accessible and easy to use functionalities. The SDK is a great way to keep the users engaged and let them enjoy the content they are most attached to, which is their pictures."
"Before the PhotoEditor SDK, we were using another solution that was good enough, but not fully convincing," Fornari says, "however, last year the vendor of the solution we were using discontinued the support for their SDK. We started searching for alternatives, and that's when we found the PhotoEditor. One thing that we like, which is different from the former solution, is the fact that we can change things inside the SDK and upload custom assets. For example, for Christmas, we were exploring the possibility to incorporate Christmas frames. Also, we like the white label approach as well as the redesigned SDK which is much easier to use and is also much richer in terms of functionalities."
"From a developer's perspective," Stefano Fornari continues, "the most powerful feature of the PhotoEditor is the integration process. It was completely flawless, quick, and easy to integrate. It's pretty clear that the SDK was designed with a developer as a customer approach. Same goes for the customizability as localization, and the upload of custom images are just a matter of a few lines of code. This is very important for a vendor like Funambol."
"Only our imagination can put a limit on the features of the app."
"Only our imagination can put a limit on the features we will add to our product and Zefiro," Fornari explains. "For example, we are actively exploring how to connect the service to IOT devices. Imagine that you could display your family pictures on your refrigerator or in your car. Also, we want to become more intelligent with the data. Think about bills that you could upload to the cloud that would be automatically sorted by an algorithm because A.I. collects, recognizes and categorizes them," Stefano Fornari concludes.
Thanks for reading! To stay in the loop, subscribe to our Newsletter.